HABIBOU'S STORY
Using storage and seeds to get climate-smart in Burkina Faso
[row]
[column md="12″]
[/column]
[/row]
Habibou is the sole provider for her four children. Since her husband went blind, he has not been able to work on the family farm.
She lives in the Oubritenga province of Burkina Faso, and managing her farm of millet, maize, sorghum, beans and groundnuts has become increasingly difficult. Over the past 30 years, average annual rainfall has dropped by 200 mm here.
"I see a real change in the climate. Before we had rain. This year, the rainy season started well but now the rain has stopped. This is a real problem for us. If the land is dry, we can't work and have to go home," Habibou says.
Training on how to cope with these challenges does not always reach female farmers like Habibou. But the BRACED project, run by NGO Self Help Africa and partners, including Welthungerhilfe and local organizations, is supporting more than 600,000 people in several regions of Burkina Faso to become more resilient to such climate extremes, with a particular focus on female farmers.
Habibou received improved bean, maize and sesame seeds from the project. "Those seeds grow better and more quickly. I used to grow the same crops before but didn't harvest as much," she says.
Learning about conservation agriculture has been instrumental in helping Habibou to grow more. "Before the training, I used to just clear the land and throw the millet seeds. Now I know how to dig small holes and plant the seeds in a line. I noticed that I produce more crops with this new method," she says.
[row]
[column md="6″]
[/column]
[column md="6″]
[/column]
[/row]
Habibou also learnt about the benefits of keeping her crops in a storage room to protect them from sunlight. Now that she is able to keep her crops longer, she waits until the market price is high before selling them, meaning she gets a higher income from her produce than before. Similarly, she was assisted in the building of a henhouse to reduce the risk of her chickens running away and to provide a safe space for chicks to grow.
Like most women in her village, Habibou used to gather wood for cooking purposes. But she has since learnt that it is an unsustainable practice. "Wood as a resource is becoming scarce, because we cut a lot of trees for cooking in the past. It is also contributing to the erosion of the soil, we should in fact plant trees as they help retain water in the soil."
Habibou volunteered to attend training on how to build improved cooking stoves. She is now teaching other women in her community how to change their cooking practices.
The knowledge that she has learnt, and the new practices she has put in place, has made Habibou and her farm more resilient to future hardship. She has passed on this knowledge to her children and, thanks to an increase in her income, she has been able to keep all of her children in school. Her eldest daughter, Fatimata, who left school after she got pregnant, has now returned to school and hopes to go to University to become a doctor.
[row]
[column md="12″]
[/column]
[/row]
"I am positive about the future," says Habibou. "My children see what I'm doing now on the farm and they are aware of that. Because they go to school I think they'll have the opportunity to do more than me in the future. If they don't want to work in farming, they'll be able to find good jobs and to take care of themselves."
---
WHAT THE EXPERTS SAY
"It is critical that governments commit to addressing the gender gap if we are to have a food secure Africa," says Lindiwe Majele Sibanda, Vice President of AGRA. "We know that while women do the lion's share of the agricultural work in sub-Saharan Africa, they are not receiving their fair share of the resources and training. This in turn puts a heavy cost burden on society in terms of lost agricultural output, and economic growth. Closing the gender gap should be viewed as a business priority and an economic imperative."
"As well as farmers, rural African women are stewards of the land. But in settings where women – often poor women – have limited access to resources, restricted rights, limited mobility and limited voices, in decision-making at community and household level, they become even more vulnerable."
"Research shows that women are less able to access climate-smart training than men. AGRA's efforts are changing this reality. Since we started our work in soil health in 2008, we have seen 1.7 million farmers adopt climate-smart practices like integrated soil fertility management (ISFM) on over 1.6 million hectares of land. Out of these, over 60 per cent have been women."
[row]
[column md="6″]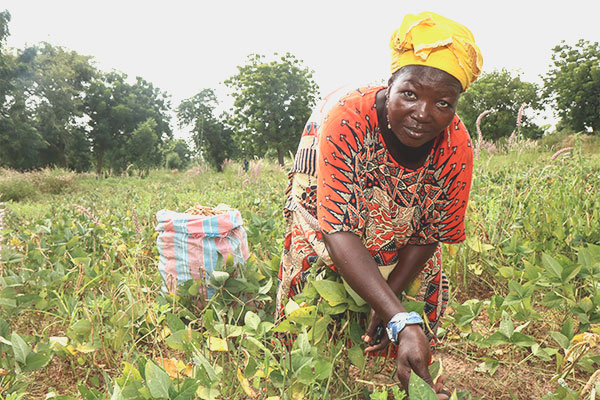 [/column]
[column md="6″]
[/column]
[/row]
"If we empower more women like Habibou, we will see a domino effect in African communities. Because if a woman is more productive, her increased income will be spent on the education, health and nutrition of her children. In order to do this, we must ensure that women can make decisions on production, access and deployment of resources such as land, use of income and time allocation."
"Passing laws that ensure women have equal access to land, inputs, seeds, extension and financial services, post-harvest facilities and markets will be critical. In addition, governments should seize opportunities for innovation and make technologies, equipment and inputs for women farmers more accessible through flagship programs or subsidy programs that can get women farmers on their feet."
"We also need more public private partnerships that ensure more and more unbanked women are banked can access credit and have control over use of income."
---
[row]
[column md="4″]
Case study prepared by:
Commentary provided by:
---
Photo credit: Self Help Africa
SDGs covered: