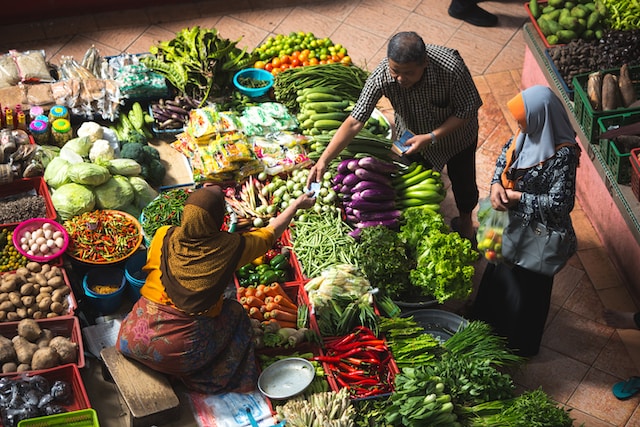 Innovations for Sustainable Food Systems
A Story By:


Our food systems are under pressure. A global population expected to reach 8.6 billion by 2030. A finite, and reducing, supply of natural resources to be safeguarded. And the livelihoods of billions who work along the agricultural value chain at stake.
The challenge at hand is unprecedented. Making our food systems more sustainable will depend on innovative tools and approaches being developed and deployed around the world. To be economically sustainable, these innovations must provide incomes and create jobs. To be socially sustainable, they must include poor and vulnerable communities and reduce levels of hunger and malnutrition. To be environmentally sustainable, they must help us safeguard water, soil and air quality while minimising greenhouse gas emissions, and food loss and waste.
Are our food systems up to the task? The case studies below, sourced from across Farming First and CGIAR, showcase current innovations in action, impacting the stages of pre-production and production all across the supply chain to the endpoint of consumption.
Pre-Production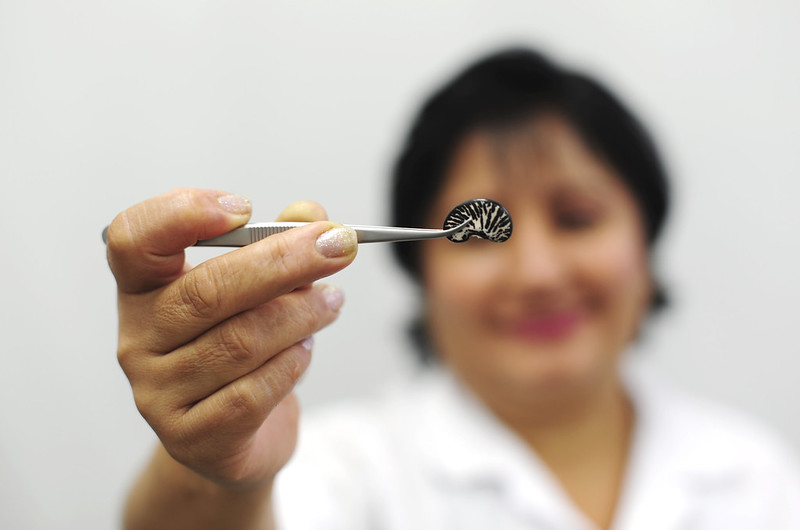 The sustainability of a food system begins well before a crop is grown or an animal raised. This "pre-production" stage includes how genetic resources are conserved and used to improve the quality and productivity of domesticated crops and livestock for the future. It also includes innovations in agricultural inputs, such as fertilizer or crop protection products. These can help to boost yields and incomes while preventing further land from being converted for cultivation. And it also includes advances in agricultural practices themselves to ensure that farmers can continue to thrive in the face of climate change and other increasingly unpredictable conditions.
The case studies below offer a range of "pre-production" solutions, from the development and maintenance of genebanks to safeguard genetic diversity and support breeding efforts, to developing best practices around fertilizer and water stewardship, integrating alternative or improved food sources like fruit trees into mixed crop farming systems, and developing hardier, more productive seeds through biotechnology, to be used for the benefit of all.
Explore case studies on Pre-Production from Farming First supporters & CGIAR research centres:
Crop Genetic Diversity in Our Food Supply

CGIAR: International Center for Agricultural Research in the Dry Areas (ICARDA)

Genetic Resources Improvement: Genebanks
Lebanon, Morocco and Syria

Over 200,000 plant species are fit for human consumption, yet fewer than 20 species provide 90 percent of the food we eat. Growing more diverse crops can contribute to more nutritious diets, and conserving this genetic diversity supports future breeding efforts to tackle a range of challenges.

Key to this success is the development and maintenance of genebanks. In Morocco, Syria and Lebanon – countries experiencing drier and hotter conditions – over 1,380 cultivated species of wild crop relatives from the non-tropical dry areas are stored and are being used to develop more resistant seed varieties which can survive in increasingly difficult growing conditions. Scientists and researchers have discovered that wild crop relatives such as faba bean, lentil, barley, chickpea, lathyrus and forages have different strands of genetic resistance. If isolated, these traits can be used in the pre-breeding of other staple crops such as wheat, improving both the variety of seeds available and their overall productivity. For example, two wild crop traits which are heat tolerant have been used as parents in breeding programmes for beans.

These genebanks contribute to building sustainable food systems by offering more options for farmers to grow resilient, productive and profitable crops, and with this more varied and nutritious diets.
Fruit Trees Provide East African Farmers Alternative Food Source

CGIAR: CGIAR Research Program on Forests, Trees and Agroforestry (FTA) & World Agroforestry (ICRAF)

Agricultural Practices: Food trees
Eastern Africa

Resource-poor communities in Kenya and Uganda often suffer from malnutrition and stunting. However, Eastern Africa is home to a range of nutrient-dense fruit trees such as pawpaw, mango, mulberry, loquat, water berry, custard apple, guava, white sapote, lemon, orange, chocolate berry, passion fruit and desert date.

These food trees have huge potential as a sustainable food product given they provide a rich nutrient source that already exists within local ecosystems. Additionally, they have been traditionally used to complement and diversify staple diets, which helps prevent nutrient deficiencies and contributes to better health.

In these regions, such a diversity of trees means there is always one flourishing and providing fruits at some point during the year. ICRAF and FTA partners help devise the best fruit trees for farmers to grow, to guarantee a diverse and uninterrupted harvest of native fruits, leaves, oils or nuts, especially during the seasons when farmers aren't harvesting crops. Additionally, trees enhance the resilience of farming to climate variability: they have deep roots that are more tolerant to drought than ordinary crops.

Fruit tree farms are important for nutrition because they provide easily accessible food that is rich in vitamins and minerals such as iron, zinc, vitamin A, calcium and other micronutrients required by the body for proper growth and development. ICRAF and partners support farmers to inform them about the nutritional value of diverse food sources and support them to integrate trees into mixed crop farming systems. This also provides opportunities for income-generating activities during traditional periods of crop gestation for smallholder farming communities.
Helping Farmers Use Fertilizers More Precisely

International Fertilizer Association (IFA)

Agricultural Practices: 4R Nutrient Stewardship
Worldwide

In the face of increasing food insecurity and climate pressures, farmers are being supported to use fertilizers more effectively and precisely. Fertilizers play an essential role in maintaining soil health and increasing crop yields as part of an integrated approach.

The 4R Nutrient Stewardship scheme helps promote more efficient use of fertilizers by, as its name suggests, using the Right nutrient source, at the Right rate, in the Right place and at the Right time. Through this best practice approach, farmers are able to minimize nutrient losses to the environment, while reaping the many benefits of fertilizers.

Maintaining the right soil fertility offers the potential to double or even triple crop yields. Growing more crops on existing farmland ensure that wild ecosystems like forests or pastures are not converted for cultivation. It also helps boost farmer incomes, increase water productivity, strengthen climate change adaptation and mitigate greenhouse gas emissions by sequestering more carbon in soils. This balanced crop nutrition is crucial in the development of sustainable food systems.
Using Gene Editing to Breed Stronger Crops

CropLife International

Genetic Resources Improvement: Rice blast disease
Worldwide

Pests and diseases pose a huge threat to sustainable crop production around the world. More than three billion people depend on rice for the bulk of their daily calorie intake, so its susceptibility to the devastating rice blast fungus poses a significant risk to global food security. Prevalent in 85 different countries, rice blast affects other crops including wheat, rye and barley too. It has previously wiped out entire rice harvests, destroying enough to feed an estimated 60 million people annually and costing US$66 billion in losses each year.

But now, gene editing is enabling plant scientists to develop new varieties of rice that are hardier and more resistant to disease. While an entirely rice blast-resistant variety is yet to be developed, a team from the Chinese Academy of Sciences at Guangxi University and the South China Agricultural University are trying to do just this. Initial trials are showing that editing a single gene can significantly increase the plant's ability to resist rice blast, and the team is now awaiting government approval to field trial this resistant variety.

The livelihoods of smallholder farmers across the developing world are dependent on the crops they grow. Gene editing has the potential to make crops stronger and more resistant to disease. This enables farmers to grow enough food to combat hunger, improve nutrition and maintain a living.
Practice Makes Perfect for Guatemalan Coffee Farmers

TechnoServe

Agricultural Practices: Coffee farming
Guatemala

An estimated 120,000 of Guatemala's smallholder coffee farmers live in poverty. Despite a high global demand for the country's high-quality beans, farmers are faced with severe challenges such as the spread of crop diseases like leaf rust.

To address this, a five-year project has aimed to improve the overall productivity and sustainability of these smallholder coffee farms in the Guatemalan regions of Sololá, Chimaltenago and Socatepéquez. A team of local farmer trainers were recruited to deliver demonstrations on sustainable agricultural practices in their local languages, adopting the Farm College curriculum, which proved successful during a previous project in East Africa.

The initiative, in partnership with McDonald's, reached more than 15,000 farmers from indigenous highland communities, of which more than half were women. Participating farmers increased their coffee yields by 45 per cent and overall income by 35 per cent on average. In total, the project generated US$21.5 million in increased income and the curriculum will serve as a model for similar initiatives in the future.
Production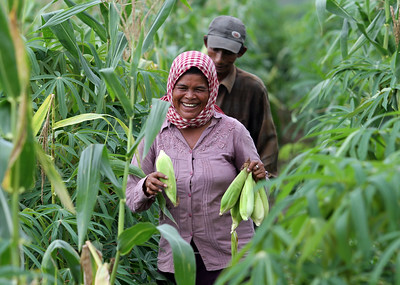 In the "production" stage, farmers must contend with the myriad challenges involved in growing and harvesting, including pests and disease, severe and unpredictable weather, food loss management and fluctuating market conditions. Under current projections, 60 per cent more food will be needed by 2050, yet current production efforts are falling short of this target and global hunger levels are on the rise again after decades of progress. This is in addition to the two billion people already suffering from malnutrition globally today.
Explore the case studies below for a range of "production" solutions. These include how to reduce dangerous aflatoxin levels in groundnuts and maize and how to use fertilizer to fend off the impacts of fall armyworm. It also includes text-based early warning systems for farmers, rice cultivation in lowland areas, and the creation of 'climate-smart villages' to tap into technologies and practices for adaptation and mitigation.
Explore case studies on Production from Farming First supporters & CGIAR research centres:
Reducing Toxicity in African Crops

International Institute of Tropical Agriculture (IITA), Chemonics and Dalberg Advisors

Growing: Aflatoxin
East & West Africa

Aflatoxin is a by-product of naturally occurring fungi that infects many staple crops or contaminates meat and milk. It affects around a quarter of the world's total food supply and is responsible for up to 30 per cent of liver cancer cases in adults worldwide. It can weaken the immune system and stunt child growth. It also negatively impacts livelihoods, leading to higher medical costs and market losses.

The product "Aflasafe" has been developed to reduce aflatoxin levels in key crops. It works by first identifying friendly fungi that are highly effective at stymieing aflatoxin growth. These are then tested in farmers' fields, helping determine the best composition for Aflasafe in each country. With widespread application, the product significantly increases the quantity of maize and groundnuts that are aflatoxin-safe. The International Institute of Tropical Agriculture hired Chemonics International, Inc. and Dalberg Advisors to support the commercialisation of Aflasafe, which is currently available in seven countries, with 12 more countries at different stages in the pipeline for eventual Aflasafe commercialisation.

As of September 2019, more than 315,000 hectares, across several countries, were covered with Aflasafe. Applying Aflasafe to crops helps smallholder farmers fight the spread of aflatoxin and ensures more of their harvests are safe for consumption and sale.
Using Mobile Phones to Issue Early Warning Systems

CGIAR: The International Maize and Wheat Improvement Center (CIMMYT)

Food Loss Management: Early warning systems
Ethiopia

Ethiopia is the largest wheat producer in sub-Saharan Africa, yet the country still spends in excess of US$600 million a year on wheat imports. Wheat rusts are a major constraint which spread easily over long distances by wind and can quickly result in devastating crop epidemics that can dramatically reduce yields.

In the absence of resistant wheat varieties, fungicides can be applied to limit the spread, but supplies are sometimes limited. To overcome this and other challenges, an international team of scientists from the University of Cambridge, the UK Met Office, the Ethiopian Institute of Agricultural Research, the Ethiopian Agricultural Transformation Agency and the International Maize and Wheat Improvement Center have developed an early warning system that can help predict wheat rust outbreaks in Ethiopia. Using field and mobile phone surveillance data together with forecasts for spore dispersal and environmental suitability for disease, farmers are notified via a targeted SMS text message alert three weeks in advance of a predicted outbreak. Farmers can then take pre-emptive measures to prevent crop disease and safeguard the productivity of their crop yields by planning an effective integrated crop protection approach.

Modelled on a UK Met Office system used for monitoring volcanic eruptions and nuclear accidents to predict where particles would be dispersed in the air, the system predicts where wheat rust spores would be dispersed and provides a forecast for farmers and researchers in the field. Ethiopia is currently at the forefront of this type of "early warning" technology in the agricultural sector.
Developing Lowlands to Boost Rice Production and Water Availability in West Africa

CGIAR: AfricaRice

Growing: Lowland rice production
Togo and Benin

In West Africa, prolonged droughts have negatively affected the food security of millions. The region's lowland valleys are now being considered as a potential future food basket for rice cultivation, as they are generally more fertile than uplands and have easier access to natural water resources.

In diversifying where food is produced, farmers can tap into available water resources and sustainably manage long-term productivity and crop yield to improve food security.

These areas are called 'SMART-valleys' and they retain water better and at a low cost, with less risk of fertilizer losses due to flooding. The main challenge lies in improving water control, and thus a sawah system was introduced to manage water flow and more effectively manage soil fertility. This helps improve land preparation and transplanting, and maintains a water layer in the field to help control weeds.

Farmers are currently benefitting from the SMART-valley approach with rice production having doubled with limited additional cost. Compared to traditional approaches, which involve expensive topographic studies and high investment costs to construct elaborate water control infrastructure, SMART-valleys are developed and constructed by the farmers themselves. Moreover, the approach can be implemented within one growing season.
Helping Farmers Fight Fall Armyworm in Myanmar

International Fertilizer Development Center (IFDC)

Growing: Fall armyworm
Myanmar

Fall armyworm is an insect native to tropical and subtropical regions that delights in feasting on maize. It can also feed on more than 80 additional crops including rice, sorghum, millet, sugarcane, vegetable crops and cotton, making it a particularly destructive pest. When a breakout occurred in central Myanmar's maize fields of Mandalay, Nay Pyi Taw and Ayeyarwady, farmers were left devastated.

In response, local community groups, consisting of farmers, researchers and village officials, have developed 'climate-smart villages' to identify relevant and easily adoptable technologies and practices, including index-based insurance schemes, efficient irrigation management strategies and conservation agriculture techniques. These are then shared with local farmers in workshops, along with further support for uptake.

The farmers learned safe and sustainable crop management practices for coming seasons, as well as how to minimise the impact of fall armyworm on their crop yields – helping them to keep their agricultural enterprises and livelihoods safer and more secure.
The Healthy Impact of Diversity in Rwandan Crops

Cultivating New Frontiers in Agriculture (CNFA)

Growing: Crop diversification
Rwanda

Although Rwanda has experienced rapid development in recent years, food insecurity – availability, accessibility and affordability of diverse, nutritious foods – remains a challenge for many households.

In line with its strategy to sustainably increase smallholder farmer income, improve nutrition and increase agricultural resilience to a changing climate, the Feed the Future Rwanda Hinga Weze activity introduced high iron beans (HIBs) into their value chains along with maize, Irish potatoes, orange flesh sweet potatoes and horticulture. Across Rwanda, HIBs are promoted as a climate-smart, fortified seed variety that will help local communities increase their consumption of nutritious foods while helping to diversify their diets, increase incomes and improve productivity.

Since 2017, Hinga Weze – a USAID-funded project implemented by Cultivating New Frontiers in Agriculture – has worked in collaboration with agrodealers, farmers, seed multipliers and government stakeholders to improve the scale of HIB production and consumption in Rwanda by building capacity for HIB seed value chain actors, developing a community-based seeds system, and promoting the many nutritious, environmental and economic benefits of HIBs.

A total of 560,000 households across Rwanda are expected to directly benefit from this initiative, illustrating how improving smallholder access to varied crops can help boost food security and nutrition, and ultimately help build a more sustainable food system.
Which Climate Technologies Will Save Our Food Supply?

WINnERS

Growing: Reducing climate risks
Worldwide

As climate change and extreme weather events become more disruptive to food production, smallholder farmers face increasing risks. Risk management services using innovative data technology can help make their growing season more resilient against climate stresses such as excessive heat and droughts.

A programme by WINnERS is developing a system for downloading climate data such as temperature, wind, pressure and humidity. This data can then be tailored to specific regions and used to create climate models. For example, the results of weather index-based modelling in China's Shandong province shows how rain levels and high temperatures can affect maize yields.

By using technology to model weather patterns, smallholder farmers are able to make better decisions about crop planting, improving their resistance to climate change and reducing harvest losses. In turn, this acts as insurance for both food buyers and producers against weather and climate-driven risks.
Supply Chain
The "supply chain" stage refers to the steps taken to deliver food from the farmer to the consumer. Transformed into sellable goods, these products can be processed, packaged and stored before eventually being transported to market. Post-harvest food loss is an especially important issue across the developing world, where the infrastructure, energy grids and transport systems are often poor or missing. In these countries, more than 40 per cent of food losses occur post-harvest and during processing.
Innovative programmes across the supply chain are aiming to stem these losses and add value to agricultural goods along the way. The case studies below include solar-powered freezers, processing improvements in milk and sweet potato value chains, marketing lesser-known crops, the wholesaling of goats as an alternative livelihood source from climate-affected farmers, and data-driven risk management services to secure supply chains against long-term climate threats.
Explore case studies on Supply Chain from Farming First supporters & CGIAR research centres:
Securing Women's Fisheries One Solar Freezer at a Time

CGIAR: WorldFish

Storage: Solar-powered freezers
Solomon Islands

At least 30 per cent of Solomon Islanders rely on fishing as an income source. Across these nearly 1,000 small islands, women play a crucial role in fisheries and fish value chains. Introducing solar-powered freezers to these women is helping to improve fish storage and bolsters their sense of ownership in their small businesses.

The freezers were initially distributed across nine villages as a trial, marking the first time refrigeration was available in these remote communities. The women owners rented out freezer space to other members of their village to store their fish and other perishable foods. The women also sometimes ordered frozen foods, like chicken or meat, from the capital, Honiara, which arrived on the fortnightly ship. These products were then sold for a profit in the village.

To finance their investment, the women formed committees and shared the task of carefully recording the earnings of each freezer. Their modest goal was to earn enough money to cover any repair costs. After a year, 637 people had used the freezers. Nearly 2,500 kilograms of fish had been stored and the women's freezer committees had saved over US$5,000 — a significant amount of money in rural Solomon Islands.
Improving the Quality of Ethiopian Milk One Litre at a Time

Fintrac

Processing: Milk
Ethiopia

Ethiopia is fast becoming one of the world's biggest large-scale dairy producers. While this provides a great commercial opportunity for smallholder farmers, improving production methods poses a challenge. Without reliable collection points and quality assurance in the processing units, the dairy industry in Ethiopia cannot sustain this growing demand or capitalise on the market opportunities available.

As a result, nearly 55,000 smallholder dairy farmers in Ethiopia are being supported to create a reliable dairy value chain, working to improve milk productivity and enable local communities to earn better incomes. By creating central collection points, introducing trusted local buyer networks and training specialists to test the milk, the project has helped farmers to improve milk quality and freshness and to sell their products through more channels.

100,000 litres of milk are now produced each day, equating to roughly 36 million litres per year and generating US$21 million in annual sales. The combination of increased production, innovative processing techniques and a growing number of trusted collection centres helps farmers to become self-reliant commercial producers. This contributes to sustainable food systems across Ethiopia, as local farming communities benefit from hundreds of new jobs, higher incomes and food to support their families.
Transforming Storage Solutions for Ugandan Farmers

Farm Africa

Storage: Sweet potatoes
Uganda

In Teso, a sub-region in eastern Uganda, soil and weather conditions are favourable for the cultivation of orange-fleshed sweet potatoes. Rich in vitamin A, this nutritious crop offers increased food security – but only if harvested and stored properly. A lack of access to affordable processing and storage facilities limits the opportunity for farmers to increase their sales income.

Farm Africa's 'Sweet Potatoes for Prosperity' project is helping Ugandan farmers become richer, more knowledgeable producers. Providing a new processing centre with washing and peeling facilities, a chipping machine and a solar dryer means farmers can now package their potatoes hygienically and store them in bulk. This allows farmers to wait until prices are more favourable to sell their crop, improving their livelihoods and incomes. Plus, training enables farmers to learn how to market their crop to boost sales income as well as how to maintain a healthy crop during production.

Storage solutions are integral to building resilient, sustainable food systems in developing communities. By learning how to chip and dry sweet potatoes, farmers can store them for longer and work with other vulnerable communities to achieve food security – for example with dried chips turned into flour and sold to hospitals and schools for making bread and cakes.
Consumption
A food system does not only capture how something is grown; it also includes how a food is cooked, eaten and disposed of by consumers. During this "consumption" stage, each of us makes a series of decisions, which have broader implications to our food and nutrition security, the well-being of our communities and to the wider environment and natural resource base. Some high-income countries spend less than 10 per cent of income on buying food while others, mostly in Africa and Asia, spend more than 40 per cent. Likewise, while some countries are facing obesity epidemics, others suffer from the impacts of undernutrition.
As the case studies below illustrate, how we prepare, consume and dispose of our food is key for more sustainable food systems. Initiatives include cooking workshops using nutrient-rich orange-fleshed sweetpotato, energy-efficient stoves to improve health and prevent desertification, and small-scale vegetable gardens for nutritious meals at home and at school.
Explore case studies on Consumption from Farming First supporters & CGIAR research centres:
Cooking with Biofortified Orange-fleshed Sweetpotato

CGIAR: International Potato Center (CIP), CGIAR Research Program on Roots, Tubers and Bananas (RTB) & CGIAR Research Program on Agriculture for Nutrition and Health (A4NH)

Cooking: Vitamin A-enriched Sweetpotato
Bangladesh, Kenya, Malawi, Mozambique, Rwanda, and Tanzania

More than 140 million children of preschool age suffer from vitamin A deficiency, and this is particularly acute in developing countries. But 125 grams of a biofortified, orange-fleshed sweetpotato can provide the recommended daily allowance of vitamin A for a child under five, as well as other key vitamins. With this goal in mind, various cooking methods are being introduced and promoted to help integrate this sweetpotato into diets across sub-Saharan Africa and Bangladesh.

The marketing campaign has already reached over two million caregivers, through the use of radio advertisements, in-person demonstrations and even children's songs – all in an effort to scale up its use.

In addition, orange-fleshed sweetpotato puree is already being added to baked, processed goods targeted at low-income families. This has led to sales of more than US$1 million in Kenya alone. This is particularly beneficial in crisis environments where access to nutritious food is scarce. It is also benefitting farmers, who now receive a better price for their crop at market.

Across sub-Saharan Africa and Bangladesh, orange-fleshed sweetpotato has already been provided to 2.3 million households with children under the age of five.
Improving Livelihoods with Community Farms in Kenya

CGIAR: Agriculture for Nutrition and Health (A4NH) and the Alliance of Bioversity International and International Center of Tropical Agriculture (CIAT)

Eating: Kitchen gardens and chicken farms
Kenya

At least 24 per cent of the children in Vihiga County in Kenya suffer from chronic malnutrition and around eight per cent of caregivers are underweight. These communities typically rely on staple crops, which alone do not provide all of the nutrients the body needs.

In the Vihiga region, community groups set up various kitchen gardens and chicken farms have been set up to provide a wider range of nutritious foods. These communal outfits help educate the local community about the nutritional values in these different foods and provide a trading platform for alternative foodstuffs. Traditional vegetables like African nightshade, cowpea leaves or amaranth, which contain 8 to 48 times more iron than kale or green salad and are well adapted to local growing conditions, are promoted for consumption. Members can trade and sell any surplus produce for profit within the communal hubs across the region.

These communal gardens help local communities improve both their nutrition levels and incomes whilst utilising the rich array of biodiversity in their local environment. With the introduction of these chicken farms and vegetable gardens, more legumes and leafy vegetables are being consumed, alongside meat and dairy bought with the income from vegetable sales. Communities have also improved their knowledge of healthy foods, and these have become more easily available and widely grown.
Promoting Home Grown School Meals in Zambia

Self Help Africa

Eating: School meals
Zambia

Food safety and nutritional health is a primary concern in Zambia. Crops such as okra, pumpkin leaves, cabbage, green beans, sweet potato and aubergine have the potential to bolster diverse crop productivity, increase nutritional health and contribute to a more sustainable food system. But awareness of vegetable production and nutritional needs in schools is low.

With a goal of improving both the productivity and welfare of small-scale farming families, the 'Home Grown School Meals' project aims to provide 200,000 children attending 435 primary schools in Central Zambia with better quality, nutritious school meals. By promoting vegetable production and fostering links between vegetable producers and farmer groups with local schools, the scheme supports farmers across the Central, Lusaka and Eastern provinces to vary their crops and sell their produce to local schools.

Currently, the programme provides education and nutrition training to school catering staff, teachers and parents to improve knowledge surrounding vegetable production. More than 50 schools have received vegetable demonstration plots, along with tools, equipment and seeds so schoolchildren can plant and grow their own crops. School attendance levels have improved.
Turning Food Waste into Fertilizer in Ghana

CGIAR: CGIAR Research Program on Water, Land and Ecosystems (WLE) & International Water Management Institute (IWMI)

Food Waste Management: Fertilizer
Ghana

In Ghana, many farmers struggle with poor quality soils lacking in key nutrients. Organic food waste is overlooked as a resource rich in water, energy and other important nutrients, such as phosphorus and nitrogen. This new, nutrient-rich fertilizer called Fortifer has been developed by recovering and reusing this organic waste, alongside human waste.

Scientists have transformed these into an environmentally friendly fertilizer pellet with long-term benefits to local ecosystems. Fortifer is also easy to handle and transport, which saves money, and decreases the loss of minerals during application, compared with powder forms of fertilizers.

A new composting plant has been built, providing job opportunities for locals. The plant is able to transform around 120 metric tons of food waste and 2,300 cubic meter of fecal sludge into 110 metric tons of safe, high-quality compost. Sold to farmers, the compost is used to replenish soils and is supporting a growth in the cultivation of cash crops such as maize and rice, as well as vegetables including okra, tomatoes, pepper and cabbage.
Like this content?
Read more CGIAR Impact Stories and Farming First articles.

Photo Credits: CGIAR Climate, Elisa Walton (USAID), Twin & Twin Trading, ©2011CIAT/NeilPalmer, Chhor Sokunthea / World Bank, A'Melody Lee / World Bank, Bart Verweij / World Bank